Tankardstown House wedding venue guide for engaged couples.
Tankardstown House Hotel is an exclusive country house wedding venue in county Meath. If you are searching for a wedding venue close to Dublin, I hope this page provides lots of useful and inspirational information for your celebration!
Tankardstown House is located in Slane, right in the heart of the Boyne Valley, only 40 minute drive from Dublin and near famous Slane Castle. I am a wedding photographer in Meath and it's also local to where I'm based!
It boasts Irish heritage sites like Newgrange and the Hill of Tara on its doorstep. The 18th century manor house is surrounded by parkland and beautiful grounds.
Whether you are planning a classic black-tie wedding or a more laid-back celebration, Takardstown House provides a beautiful setting.
It has a beautiful tree lined driveway leading up to the entrance, which is often used as one of the locations for bride and groom portraits, along with an old walled garden. The House is part of Ireland's Blue Book - a prestigious guide to fine accommodation and dining in Ireland.
Tankardstown House also boasts award winning food. I must say their wedding menu is one of the best I've had in Ireland. Couples love the food tasting experience in the run up to their special day.
Also, even if you are not staying in the House the night before the wedding, you can have a family dinner in the Brabazon restaurant on the venue's grounds.
Getting ready in Tankardstown with bridal party.
Every room in the house is decorated beautifully with lots of character. The spaces and rooms feel luxurious, yet comfortable. The bridal suite is a stunning large room and my brides love getting ready there on the morning of their wedding. You have the view over the gardens from the windows and can even take a peak at your guests arriving for the wedding ceremony! Another local place where both the bride and groom can get ready together with their bridesmaids, groomsmen and families is Collon House, which is about 15 min drive from Tankardstown.
Wedding ceremony in Tankardstown.
Upon arrival the guests are welcomed into the main house drawing rooms. Then guests are invited to the beautiful orangery for a humanist or spiritual ceremony. The light and airy Orangery seats up to 230 guests. It's a beautiful room for an indoor ceremony regardless of whether you are having a winter or summer wedding!
The wedding coordinating team at Tankardstown is second to none and they really do take care of their couples! The ceremony, the cocktail hour and the dinner reception in the Orangery run like clockwork.
A few wedding ceremonies I photographed at Tankardstown were very personal and included some readings, the sand pouring and ring warming rituals to involve the guests. If you prefer to get married in a Church and have your wedding reception at Tankardstown afterwards, there are a few Churches within 15 to 20 minute drive and near Navan.
Weather permitting you can also hold an outdoor wedding ceremony in a beautiful walled garden surrounded by mature trees and flowers.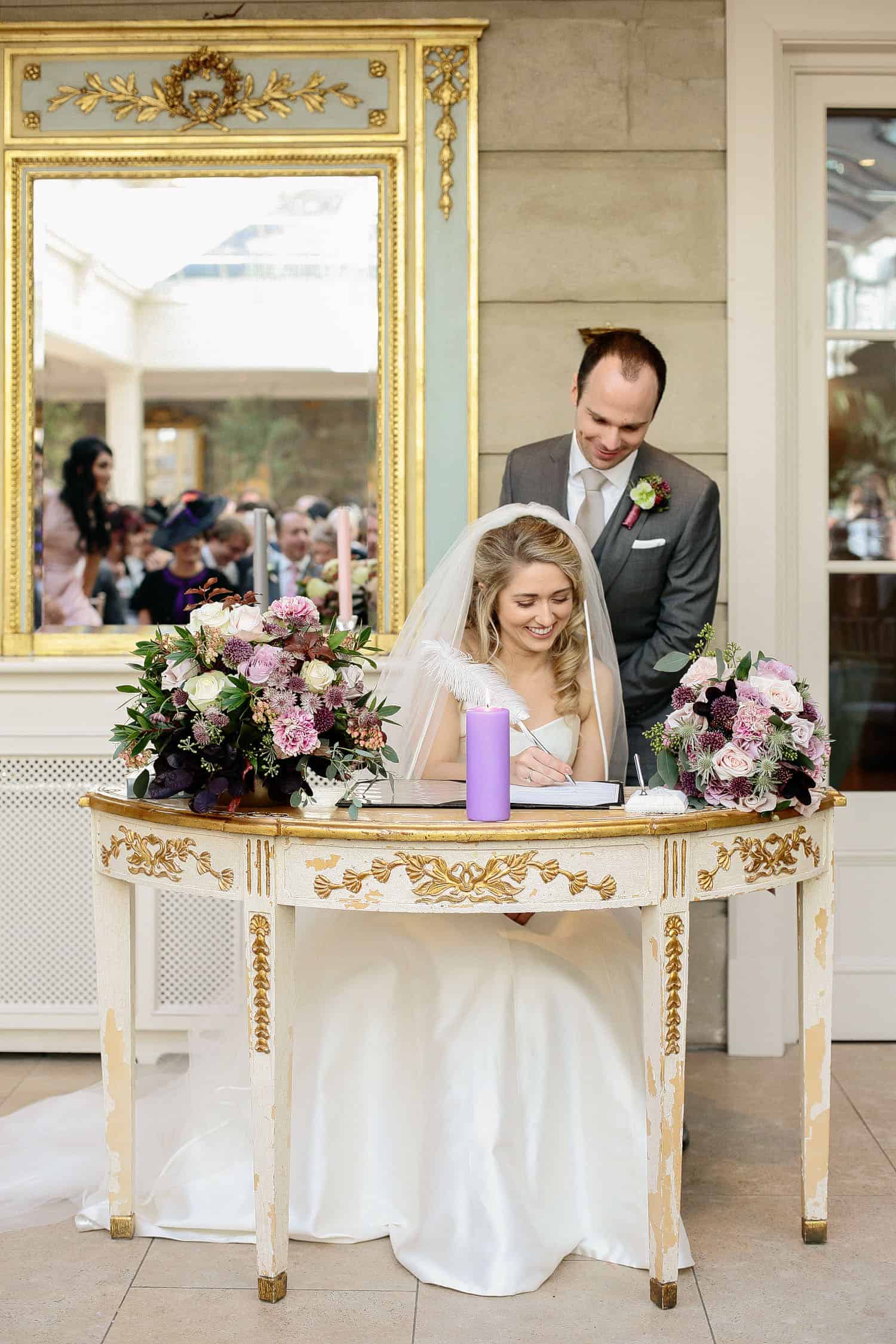 Pet friendly wedding venue in Ireland.
Tankardstown House is one of a very few pet friendly wedding venues in Leinster! They even have a House dog called Bruce, who you can sometimes see wandering the grounds looking for treats!
You can have your pets with you inside the Orangery for the ceremony and running around the lawns outside of the main manor house during drinks reception. One of my couples decided to get married in Tankardstown so both their 11 year old rescue dogs could be there. It meant so much to Danielle and Stephen to have their two beloved pets present at the ceremony in the Orangery. We even got some photos with the dogs in the walled garden afterwards!
I photographed several weddings in Tankardstown House and it's one of my absolute favourite venues in Ireland for several reasons. The spaces are very versatile and can suit bigger black tie weddings as well as more intimate celebrations. The House is beautifully decorated, so you won't need to do much for your wedding decor. At the same time you can truly make the reception room your own by adding flowers, candles and personal creative touches for atmosphere.
You are guaranteed to have great bright and airy photos regardless of the weather. There are plenty of places to take family photos and couple's portraits on the property.
Some of my favourite locations are the walled garden with a beautiful green gate with intricate design, the swing which looks stunning at sunset, and a tree lined driveway leading up to the main house.
If the weather is good, your guests will be mingling on the lawns outside during cocktail hour enjoying champagne and catching up. The older guests may settle on the cosy sofas in the drawing rooms. In that way Tankardstown House is a great venue for a relaxed wedding celebration. It is always a pleasure to photograph in one of my favourite and best wedding venues in Co.Meath.
Accommodation near Tankardstown House
The venue has some accommodation on site including a bridal suite where you can get ready and 7 bedrooms in the main manor house. There are also beautiful Courtyard Cottage Suites. There are plenty of hotels and B&Bs within a short distance from Tankardstown in the nearby towns of Slane, Navan and Drogheda. The nearest hotels are Conyngham Arms in Slane and Newgrange Hotel in Navan. B&Bs like Rossnaree House, Slane Farm Hostel and College Hill House and Gardens.
Wedding photography reviews
genevieve & paul
We highly recommend Dasha for your wedding, she will take amazing care of you on your day and before and after the event. Her work speaks for itself, she captures moments and creates a story with her photos. We couldn't be happier with our photos.
Leah & Anthony
Dasha, the slideshow is amazing…a bit emotional :-) Thank you so much for the photos, we LOVE them all. It was a pleasure having you capture our day.
Thank you so much.
emer & tom
Dasha, we finally got a chance to go through our photos together. They are amazing!!! We are having such fun reliving the day. Thank you so much for capturing our wedding day. We are so happy we found you!
danielle & stephen
Wow! I don't even know what to say! The photos are so beautiful, couldn't have asked for more. You are amazing! Thank you soooo much from both of us!
Recent Tankardstown weddings
Check out some of the recent weddings I photographed at the venue on the blog.
Tankardstown House wedding photography prices.
Wedding photography packages begin at €2499 for half day coverage (normally including time from getting ready till dinner reception), and include a wedding album, pre-wedding consultation to discuss what is important to you in photography, edited high-resolution digital images, an online gallery/cloud storage and a personal mobile app with your wedding photographs. Contact me to discuss what is important to you in photography and I will be happy to walk you through my rates and different package options. We can also create a bespoke collection to suit your needs.
Information about the venue
Address: Rathkenny, Slane, Co. Meath, C15 D535, Ireland
Phone Number: 041 98 24621
E-mail: info@tankardstown.ie
Official Website: www.tankardstownhouse.ie